From: Patric Chan
Re: Amazing Advertising Opportunity
Dear Fellow Marketer,
I've sold tens of thousands of dollars of my own products and services to my list – now I want to give you the opportunity to profit from them also. It has taken me years to grow and nurture this list into a money-generating income machine.
If you have a product in the self-improvement niche, then I urge you to jump on this opportunity because you will not find it anywhere else at such a steal.
Here are the details:
50,000 subscribers and increasing
Subscribers are subscribed from my personal improvement newsletter and product offers. Examples of these webpages are www.successtrace.com, www.mentorsandmillionaires.com, www.patricchan.name, www.successandlife.com (page #1 on Google for "personal improvement") and www.esuccessmastery.com
You can take advantage of this to sell your products or if you're smarter, build a mailing list.
I did a JV promotion for Chris in the past for his personal development product – he gave me his best email copy and he has a free offer… built over 1,000 subscribers in just days!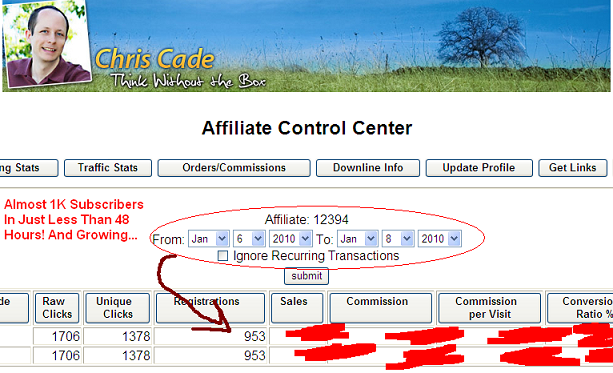 Honestly, I've paid over $2,000 for an email ad to a targeted self improvement list and never even got this close of a result. If you don't believe me, go ahead and shop around – after a few tries on your own, you'll be dried with no fund, no sales and no list.
Ads Availability:
1. Solo Ad for

Only $1,000

Only $600 Today (Until Sold Out)
You will get an email sent out to my entire self improvement list of over 49,000 subscribers with no other ads or content – just yours.
Guaranteed 1,000 clicks and above.
BONUSES:
i. Tweeted in my twitter to get more traffic and backlink, www.twitter.com/successtrace
ii. I will publish a content article of yours on my blog, www.patricchan.name.
* Note: Only 2 solo ads a week, so slots are easily sold out.
2. Sponsor Ad for

Only $500

$300 Today (Until Sold Out)
What you'll get:
i. A sponsor ad after my content article. Note that I do NOT send my article in the email but will always email to my list to read the article on my blog. My list WILL GO to my blog to read when I email them. This is also an advantage to you because you can advertise with a banner instead of text if you want and also, gets PERMANENT promotion on my blog that will be archived (you'll get a backlink for search engine optimization as well).
ii. The PS slot in the email! When I email to my list to check out the content, I'll place your ad at the PS. Example of an email in this method below. The sample below is promoting my own product.
————————————————————————————————————————————
Hi NAME,
The types of people that I don't like is whiners.
Whiners don't achieve success – they just blame and complain. And they're so energy sucking that
by just talking about them in this email, I've already felt my energy sucked away!
But is it really their fault?
It's not their fault if they know this:
http://www.patricchan.name/233/where-whiners-come-from/
There's a 'universal' problem that all of us have, pulling us away from achieving success.
All the best,
Patric Chan
P.S: My latest program, The Success Trace will give you the shortcut to success with my proven
success formulas:
http://www.successtrace.com/private.html
————————————————————————————————————————————
Why Sign Up Now?
This is the first time I'm opening up my list, which means, these are 'fresh' prospects.  I hardly send promotions of other marketers to my own list
I'm doing a special launch price – I'll be selling it for $1,000 for a Solo Ad and $500 for a Sponsor Ad later on. Right now, I'm giving 40% discount because this is a launch promotion and I want to fill up the first month.
There is

no promise

I'll continue to offer this. Like I said, I'm just testing it out.
The demand is going to be overwhelming and I'm just taking 2 solo ads and 2 sponsor ads a week. So the line could be months away if you don't act now and as a matter of fact, you might just as well book 2 slots to save the space.
"Patric, If Your List Is Your Money Maker, Why Won't You Sell Your Own Stuff And Make More?"
That's true but it doesn't make sense for me to promote my own products to the same list over and over again. Secondly, they have already bought my product so I can't expect them to buy the same product again.
Before You Purchase, Read These Rules and Regulations First!
1. All offers are reviewed first before being approved. If you're an affiliate marketer promoting someone else's products, I got to review that first.
2. Only advertise personal development stuff. I DO NOT accept internet marketing, business opportunities, MLM (unless the product is personal development related stuff) and those other money-making topics. If you have an entrepreneurship, health or relationship-type product, that can be accepted too.
3. If ALL ad spots are SOLD OUT, I'll return you back your money. All ads purchased will be sent out 3 to 45 days from the date purchased. I cannot promise you an exact date, although I'll accommodate as much as possible simply because it's based on first come, first serve basis. But if you order first, you can choose to have your ad to come out later – that is fine.
4. Strictly no whiners are allowed. If you're someone who likes to complain, keep your money. All promotions are final and again, if this sentence freaks you out, DON'T advertise. There are many others queuing. The fact is, each advertiser's result will vary simply because there are so many variables involved – the solo ad copy, the landing page offer, the promotion before your promotion (if your competitor advertise first) and how does my list feel at that moment of time.
My Personal Tips:
1. Promote a free gift product to build your list. You'll get more people checking out your stuff and you'll be more profitable as well.
2. Don't write a long solo ad email. My list normally prefer a shorter email to read.
"YES Patric, I want in! I understand that I'm purchasing a solo e-mail to be sent to your subscriber list of 50,000+ people with a guarantee of 1,000 clicks and above. I know this opportunity will not last long and that the price will increase later on if I hesitate."
"YES Patric, I want in! I understand that I'm purchasing a sponsored e-mail to be sent to your subscriber list of 50,000+ people. I know this opportunity will not last long and that the price will increase later on if I hesitate."
Regards,
Patric Chan
P.S. This launch price to advertise to my list of 49,000+ people will NOT last long. You will not find a better deal anywhere online. Order today!
P.P.S. Even if you don't have a product to advertise, you can use this opportunity to build your own list by advertising a freebie offer. You simply can't lose!